Increase Audience Engagement with Snips Trending News
Posted on Jun 24, 2015

Lane Olander & Jaime Toepp

0 Comments
Today, more and more people are relying on social media to find the latest news and trending stories. In fact, according to recent research reported by the American Press Institute, 88% of millennials are getting their news from Facebook at least occasionally, while 83% from YouTube, 50% from Instagram, and 20% from Twitter. Even more interestingly, 70% of those on Facebook reportedly click or engage with news stories or headlines posted by other people. They also participate in news in ways that are not entirely possible in more traditional platforms. Meanwhile, the the number one reason Twitter users say they use the social platform is to see what's "trending" and what people are talking about.
These recent findings show a considerable market for delivering trending news and late breaking news. But finding engaging content is always time consuming and requires a great deal of effort. Of course, being the first to break the story can be an even greater challenge.
Snips has created a special tool for influencers who love to share great content, called Trending News. Our team has curated content from hundreds of sources to seek out the best articles that are available in real-time as they break. You can surf the news by categories, or search articles by matching keywords. Based on the articles you snip, we build a special curated list of Recommended Stories just for you. This is a great way to find other related content that's trending, and helps to increase your social media presence. It's the ultimate tool for influencers to break the latest stories. With hundreds of sources of trending news at your fingertips, there's plenty of great stories to snip and share.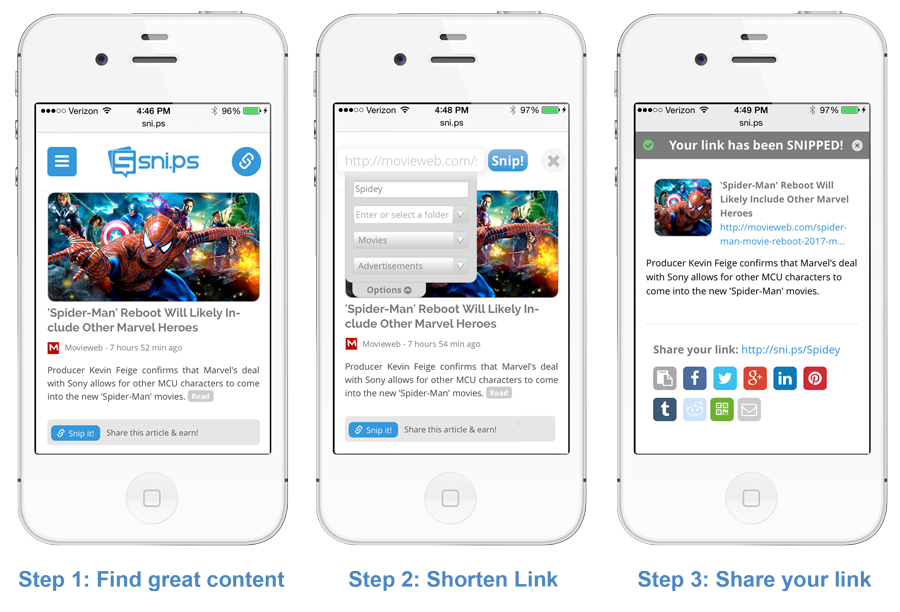 Using Snips Trending News is a fun and easy way for social influencers to generate new revenue, with only a few clicks. Each time your social followers click your news stories anywhere you post them, you earn money from the advertisements shown before reaching the content. To get started, follow these easy steps and you'll be the king of content in no time.
From the Publishers menu, select Trending News. There, you can find great content by categories, or search by keywords. Click any of the articles to read them.
Once you find an article you would like to share, click the Snip it! button under the article to shorten the link. HINT: Click the Options tab and add a custom tag to increase audience engagement. When you're ready, click Snip! to shorten the link.
Finally, share your snipped link on Facebook, Twitter, or any other social media sites. You can even email it or send it to a friend over text message. Later you can check back into your Snips account and view the analytics and earnings for your link.
That's all folks. Now get snippin'.