Top 10 Ways to Optimize Audience Engagement on Twitter
Posted on Aug 12, 2015

Lane Olander & Jaime Toepp

0 Comments
Twitter's platform is growing with 255 million active users and 500 million tweets being published each day. It's a great tool to use to spread brand awareness and engage your audience with organic content. "Twitter users talking about marketing and brands far exceeds the usage on the other social networks," according to Tom Webster, VP of Strategy & Marketing at Edison. Twitter is actually where a lot of discussion about brands is taking place, so there is huge opportunity here to have influencers share your branded content with great success.
Drive Greater Audience Engagement on Twitter
Here are our top 10 proven go-to strategies that will improve your audience engagement on Twitter immediately. You don't have to be a rocket scientist to implement any of these techniques. They're simple and easy enough to start using today.
Less is more. Don't be too wordy. Yes, twitter only allows you 140 characters but tweets with 100 characters or less have 17% more engagement. So make your tweets short and sweet.
Keep it simple. Make content searchable, accessible, and easy to understand. The content you post in tweets should be optimized for search engines so others can easily find it. Simplify your words so they are easy to comprehend and respond to.
Use more action words. That is, use more verbs and adverbs and fewer nouns and adjectives in your tweets. Studies have shown that tweets with links that contain verbs and adverbs tend to have a higher click-through rate.
Use hashtags appropriately. Only 24% of tweets include hashtags, but according to research by Twitter, using hashtags increase engagement by 100 percent. Use hashtags when and where appropriate, but don't abuse them. Search for trending hashtags and incorporate them in your tweet so they are found more easily.
Share more visual content. Pictures are worth a thousand words. Tweets that have an image achieve 2x the engagement of those without images.
Add a call-to-action.  Ask for a retweet, follow, reply, or call-to-action. Give people clear direction and incentive to click on the link you provide in a Tweet.  According to research by Twitter, call-to-actions receive over 10X higher engagements than those that do not.
Post more on weekends. Twitter engagement is 17% higher on weekends, however only 19% of brands post on weekends. Higher engagement and less competition mean a much higher likelihood of having users attention on your content. Social media expert Dan Zarella even found that click through rates are higher on the weekends.
Integrate Twitter Cards. If you're sharing content from your website or blog, make sure your site is optimized for Twitter by using Twitter Cards to drive more traffic, more downloads, and more leads. The meta content for Twitter Cards should be added to every page header. When that page is shared on Twitter, a snapshot of the page is automatically created in the tweet that includes a thumbnail image or video, title, description, and more.
Schedule your tweets.  The best time to post tweets is right before people wake up. Huffington Post reported that 28% of iPhone users check their Twitter feed before they get up in the morning; this shows that checking Twitter has become apart of users daily routine and it is the first thing many people do in the morning. Use the Twitter scheduler to automatically post at the right time of day.
Know your audience. Don't only focus on millennials. When you think of social media you often think of young adults and teens. However, this isn't the case with Twitter. Twitter's fastest growing demographic is actually 55-64 year olds. Remember this when deciding where to target your audiences.
Optimize Your Tweets with Snips
Integrating Snips with your Twitter posts has many additional benefits for influencers. Not only can you monetize your tweets when you share links, tweeting out a snipped link can actually help your engagement on Twitter. In fact, tweets that include links are 86% more likely to be retweeted. Here are some of the benefits in using Snips when you tweet:
Optimized tweets. Snips helps you build your tweets with the necessary content to optimize your posts. Your messages are auto-populated with a short description and a link to the content, which you can edit. Snips will also populate hashtags into your tweets automatically so that it can be more easily searched.  
Enhanced multi-media. While not all websites are optimized for Twitter, Snips optimizes your posts for Twitter automatically by auto-populating it with multi-media content to drive higher engagement. The multi-media content is populated in the summary section of the tweet, and includes a thumbnail image, title, and summary.
Audience insight. Snips real-time analytics is a powerful tool that gives you greater insight into your audience than Twitter alone. You can track real engagement, including click-throughs, shares, geolocations, devices, platforms, and other insightful information about your audience.
Monetize your content. That's right. You can generate revenue from any content you post on Twitter. When audiences engage with your links, you earn revenue from advertisements that display before reaching the content. You can even run your own brand advertisements behind any organic content you share.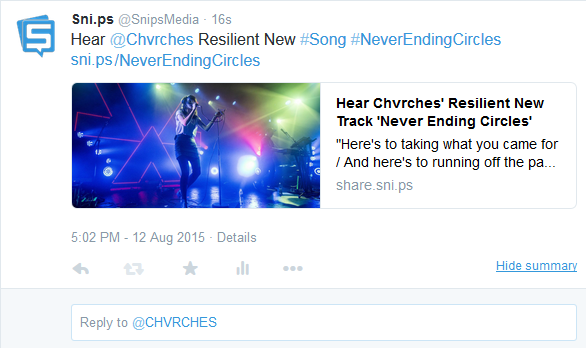 To get started using Snips with Twitter, visit our Trending News. There, you can browse or search any trending article. After you have found an article you wish to share, click the Snip it button to shorten the link. Finally, click the Twitter button to create your tweet. Use the wonderful techniques above to enhance your message and post.
Then, check back any time to view your analytics and track your audience engagement. It's that simple.